Ministry Projects & Partnerships
The possibilities are endless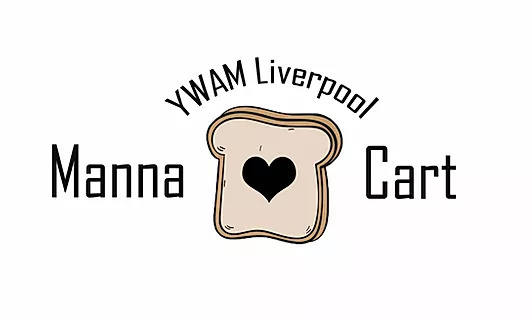 Every Thursday evening, we bring hot drinks, food, and Bibles to homeless people in the city centre of Liverpool.
We know many of the people by name and God has
given us many opportunities to pray with them and to
talk with them about Jesus. We hope that in the future
we will have enough volunteers and donations to also
distribute toiletries and clothing. Currently, the ministry
is primarily funded by our staff contributions, though we
have seen a number of very helpful donations come in!
On average we feed 60 people, for an average of £45
per week.
Currently under covid 19 Liverpool restrictions, Manna cart is able to
go out as normal but has stepped up in serving food and hot drinks with vulnerable people using Tree of Life as a hub.
We are currently involved with ministries all around the city. Each person who comes either the marginalized by society, regular or first time patrons, are all equally valuable to the Lord and YWAM are bless to be able to serve them all through the Tree of Life Cafe.
Tree of Life Christian bookshop and cafe has been a Charitable Institution house for over 200 years. Under this status it has three main mandates that it must due in order to maintain its charitable status. First and foremost it must share the gospel of Jesus Christ, secondly it must distribute Christian Literature, which it does by selling books, bibles and other works as well as generously giving these same resources out to those need the
encouragement of Christ, and thirdly it must look after those in need.
YWAM is called to "Know God & Make Him Known." We aim to see spiritual growth in both Liverpool and the United Kingdom as a whole. Through both Biblical teaching and hosting Bible seminars, we facilitate the development of a greater understanding of one's self
and a deeper relationship with God.
We aim to run a DTS in the future. Currently, we are praying for a School Leader as well as Staff. We already have some exciting relationships around the globe eager for teams to come.
Our prayer is for God to open the door to see schools of worship, prayer, evangelism and anything else anyone would like to lead in Liverpool.
Discipleship Training Course is 40 hours worth of lectures that aim to equip believers in their faith. The goal is to take a snap shot of what a DTS (Discipleship Training School) and share the teachings within YWAM to a greater community. We have completed two in Liverpool and have seen God encourage, strengthen and uplift each person. This is a course for those looking to understand what YWAM teachers, preparing for a DTS, or to be encouraged in Christ by firm Biblical Teaching. Speakers include Brian Bennet, Fred Market, Dave Gustaveson, Dean Sherman, and may more.
We have held a few seminars such as "The Fathers Love" in autumn 2018, as well as Loren Cunningham, YWAM's founder, share to business leaders and the community in autumn 2019. We have held informal seminars on Facebook that look at how Marvel cinematic Universe can relate to our Christian faith and walk with Christ.
We also host different practical skills seminars like level 2 Food health hygiene course to equip people with job skills. Although this is the only one currently like this, we plan to run more and partner with the city to provide hand up for those in need
At YWAM Liverpool the possibilities are endless. Some of our vision to be able to provide practical skills to serve those in our community. We would love to provide different areas of training and apprenticeship in areas such as barista, tattoo artistry, website design, church leaders and so much more. We want to raise up disciples of Christ to be able to go out in to the world using their skills, talents, and passions. If you have a vision to impact a community and wondering where to start, please Contact us.